Restore and Strengthen Your Teeth
Dental Crowns New Orleans
---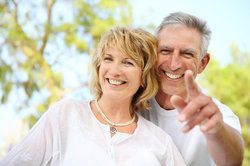 Throughout our lifetime, teeth can become decayed, cracked, or lost. Dental crowns can restore and replace teeth to rebuild your smile.
Dr. Raul F. Ramirez offers natural-looking, all-porcelain dental crowns to our patients in New Orleans and surrounding communities. Contact us today to learn more about dental crowns during a consultation.
What is a Dental Crown?
A dental crown can serve one of two primary purposes: to strengthen and support a natural tooth, or replace a missing tooth as part of a dental implant or bridge.
Crowns, also known as a caps, are an excellent method of protecting a tooth treated for damage or decay. Crowns encapsulate a tooth down to the gum line and allow Dr. Ramirez to preserve as much natural tooth structure as possible. A crown helps to evenly distribute pressure on a tooth, while utilizing its natural, healthy root for support.
During a consultation, Dr. Ramirez will perform a thorough examination to determine if you are a good candidate for a restorative crown. If you choose to receive a crown, your natural tooth will first be shaped to accommodate the width of the crown. Impressions of your mouth will be taken during this visit. Your crown will be customized according to these specifications. A precise fit ensures your crown will fit snugly, and function just like a natural tooth. You will be fitted with a temporary crown before you leave your initial appointment.
Dental crowns are typically fabricated in about three weeks. Once a crown is created, Dr. Ramirez will check that it fits properly before bonding it permanently into place.
If you are missing one or more teeth, Dr. Ramirez may recommend a dental implant. During dental implant placement, a small titanium post is surgically embedded into a patient's jawbone. This post acts similarly to a tooth's root, and provides a stable foundation for a dental crown. Crowns can also be used to anchor a dental bridge.
Am I a Good Candidate for a Crown?
Dental crowns can be both aesthetic and functional. In addition to replacing missing teeth, crowns are an excellent option to treat a tooth that has:
Had a large portion removed because of decay
Sustained trauma that has weakened or damaged it
Little or no enamel, and is therefore vulnerable and sensitive
Become worn due to teeth grinding, or TMJ disorder
Undergone root canal therapy
What are the Benefits?
Crowns offer immediate benefits, including improved functionality and enhanced aesthetics. Dr. Ramirez prefers all-porcelain crowns for their natural appearance. Porcelain mimics the gloss and translucency of natural teeth. Each crown is matched in size, shape, and color to adjacent teeth, ensuring your restoration blends seamlessly with your surrounding teeth. Crowns can be brushed, flossed, and rinsed like a normal tooth and with proper care, can last for years.
Schedule a Consultation Today
Commit to a healthier, more attractive smile. To learn more dental crowns or any of our available services, schedule a consultation at the practice of Dr. Ramirez today.